Have you ever wanted to create a robot on wheels or maybe one that can climb the stairs? What about creating a rotating table for subject photography? Or even have your solar panels track the sun?
All of this is possible with the help of the continuous rotation servo FS90R. The only limit is your creative drive.
This small servo can be used as a motor and does not require complicated power electronics. When powered by the Arduino the servo rotates at a speed of up to 80 rpm and exerts a little more than 18 oz-in (1.3 kg·cm) of torque.
The servo drive maintains the specified shaft speed in any direction, without any restrictions on the angle of rotation.
Connectivity
The drive can be connected directly to the microcontroller without a power driver. To do this, there are three wires that need to be considered:
Red - Power
Brown - Ground/Neutral
Yellow - Signal; connects to the digital output of the microcontroller
If you are looking to connect one servo, the Troyka Shield is the most straightforward method. Connect the module to a pin group on Troyka Shield with the 3-pin jumper cable and you're ready to interface with it from your Arduino.
To simultaneously and accurately manage many servo motors without occupying all of your Arduino pins we suggest using the specialized Multiservo Shield instead of the Troyka Shield.
Dimensional Drawing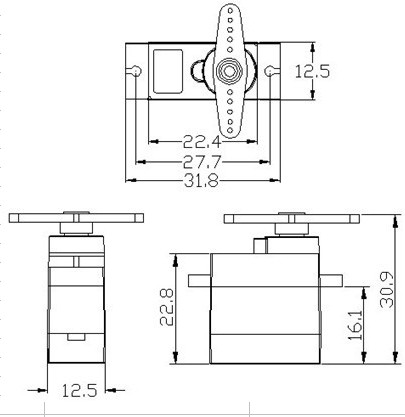 The servo motor also comes with a set of fasteners, servo arms, and servo horns.
Alternative Servo Motors
If you need a servo capable of turning to a given angle and holding it, try using the FS-90.
Specifications
Range of Rotation: 360°
Power Supply: 4.8 - 6 V
Torque: 1.3 kg·cm at 4.8 V
Speed of Rotation: 60° in 0.12 sec at 4.8 V
Current Draw: 200 mA (max 500 mA)
Internal Interface: Analog
Gear Material: Nylon
Housing Material: Plastic
Dimensions: 23.2 × 12.5 × 22 mm
Weight: 9 g